Hjellnes Group comprises both Hjellnes Consult and Johs. Holt. Through Hjellnes Holding, the group is entirely owned by members of both of these companies. Hjellnes Consult provides multidisciplinary consulting services to best meet your needs and add value for your company. We have extensive expertise in buildings, plants, infrastructure and environment. JH provides consulting services for all types of bridges and other heavy structures.
As a client, you can rest assured that we have the expertise you need – and that we will provide you with the right expertise to match your specific needs. We work tirelessly to be at the forefront of our professional fields, and are active members of the Consulting Engineers Association (Rådgivende Ingeniørers Forening or RIF). We have RIF-approved consultants within each of our disciplines.
We can provide holistic consulting services
We are used to working on all phases of a project, from the early conceptualization to feasibility studies, impact assessments, condition assessments, planning and design, and operation and maintenance. We have experience in assuming overall responsibility for a project, either alone or in cooperation with external partners. Our projects are planned with the whole life cycle in mind, and we emphasize the need to combine all planning and design with environmental expertise. We also undertake studies and analysis within the areas of environment, waste management and transport, among others.
Exceptional quality and ability to add-value
We are committed to understanding your needs, wishes, demands and expectations, and provide quality services that add value for our clients. At the same time, our services adhere to environmentally friendly principles and satisfy the requirements of relevant authorities. We always consider environmental requirements in our projects, and have strong expertise in doing so. Our quality assurance system meets ISO-Standard 9001, and fulfills RIFs quality requirements.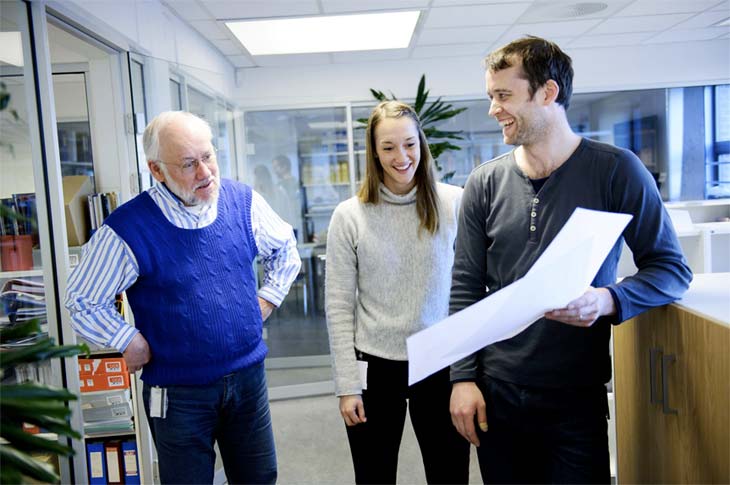 Our employees are central to our work
Employees are the most important resource in a professional firm like Hjellnes Consult, and ours are our most important competitive advantage. We are committed to maximizing the potential of each and every employee, and place a strong focus on professional development. Among other things, we involve our experience staff in a mentoring scheme, which promotes both theoretical and practical knowledge sharing. In addition, as employees here we are in a very particular position: We are the owners of our own company, and this has a positive effect on Hjellnes Consult.
We aim to be a self-developing organization driven by learning
People, quality and environment
Our vision is to always pursue development in everything we do.
From first ideas to the project's end, we always keep the big picture in mind.
Developing, professional and human